Ducato Mooveo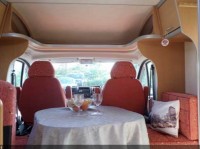 Driver and passenger seats swivel round.
3 Seat Belts
Sleeps 3, with a fixed double bed at the rear. 
Three burner hob, fridge microwave, toilet, shower, 3-bike rack and awning.
The driver's and passenger seats swivel  round so you have very comfortable seats while on the move and when stationary. This is a small vehicle but very cleverly designed to make the most of the limited space.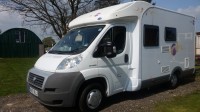 It has gas heating to keep you warm on chilly nights.

It has a awning and outside access to storage for chairs & table.
When hooked - up to the mains you won't need to use gas because the microwave, toaster, kettle, heating, and hot water are electric. When wild camping you will have to use gas.
The cooker is gas.

The vehicle is based on Fiat Ducato. It has 6 speed gear box and Air Con.