Motorhomes available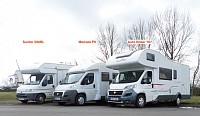 Auto Roller 707           Sleeps 6/7

Chausson Flash02       Sleeps 2
Chausson Flash08       Sleeps 4
Chausson Flash09       Sleeps 6/7
Joint150                      Sleeps 4
Suntor 590RL              Sleeps 2+2
Mooveo                       Sleeps 2 +1 
Price has been reduced because of the hard time people are having .
To find prices you need to go to BOOKING, follow the instructions and eventually you should end up with a diary page.  Select the vehicle and start date and you should get a price. The minimum hire period is normally 48 Hrs. 
To Pay By Bank Transfer - K Allison  Sort Code -30 95 96 Account Number - 31436260 We can take payments over the phone if required.
If you click PAY Later we will contact you. 
If you would like to discuss your options then please call Kenneth on - 01728 746 238 Or Mobile - 07711 219 332  Or Email - kennethallison@btinternet.com 
 I do have a mobile but reception is poor , so best to use landline  if I do not answer please leave a message and I will get back to you ,or  email on kennethallison@btinternet.com
TV, & Microwave
Chausson Flash09
Transit 6 speed Chausson 09 can accommodate 6 people. This vehicle is over 3500Kg and thus a C1 licence is required. This is an ideal vehicle for all the family.
Location
Post Code IP13 0DR
Nearest Railway Station is Wickham Market on the Ipswich to Lowestoft line.
We are happy to pick you up at the station.